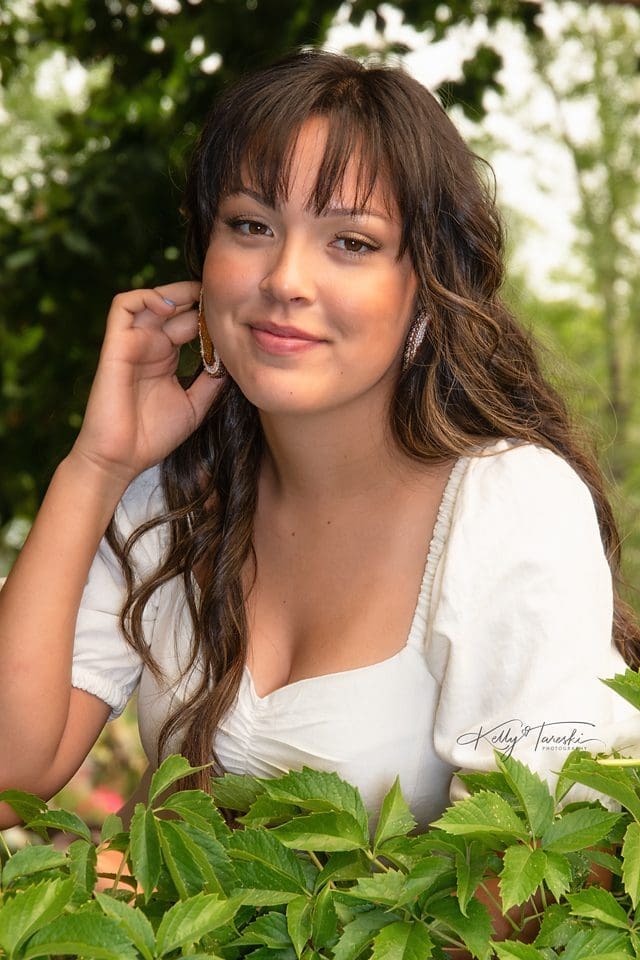 Stunning Senior Portrait Session with Mia her Mom and Grandma

Stunning Senior Portrait Session with Mia – Mother - Grandmother
As the founder and principal photographer at Kelly Tareski Photography, I am privileged to capture significant moments in people's lives. One such moment was the unforgettable Senior Photo Session with the vibrant and talented Mia.
And it began...
From the moment Mia walked into our studio, her radiant smile and infectious energy filled the room. She arrived with her mother and grandmother, both beaming with pride and excitement. The bond between these three generations was palpable, and it was clear that this photo session was about more than just commemorating Mia's senior year; it was also about celebrating the strong family ties that had shaped her into the remarkable young woman she is today.
All here on the studio grounds
Mia chose to have her session at our 5-acre garden studio, a stunning location that boasts an array of scenic backdrops – from lush greenery to vibrant blooms. The natural beauty of the gardens perfectly complemented Mia's lively spirit and provided a serene setting for her photos. As we strolled through the gardens, we stopped at various points to capture her in the warm sunlight, surrounded by the gentle rustle of leaves and the soft chirping of birds.
Adding Vintage
Mia also opted to use some of our unique vintage venues to add a vintage touch to her session. These spaces, each with its own distinctive charm and character, added a timeless quality to her photos. Whether she was posing against the rustic backdrop of an old barn or sitting on the steps of a quaint cottage, Mia exuded a classic elegance that was truly captivating.
Hair and Makeup
Before the session, Mia had her hair and makeup professionally done by our expert team. The transformation was stunning. The makeup artist enhanced Mia's natural beauty while keeping her look fresh and youthful. Her hair was styled in loose waves, adding to her effortlessly chic look. This total makeover not only made Mia look gorgeous but also boosted her confidence, which shone brightly in every photo.
Generations
Involving Mia's mother and grandmother in the session was a heartfelt experience. There were moments of laughter, shared stories, and even a few tears of joy. They brought some family heirlooms, which we incorporated into the shoot, symbolizing the family's cherished history and the continuity of love from one generation to the next. It was incredibly moving to witness their bond and capture these tender moments.
She's a natural
Throughout the session, Mia proved to be a natural in front of the camera. Her genuine laughter, thoughtful expressions, and dynamic poses reflected her vibrant personality and youthful spirit. I was there to guide her, but Mia's authenticity truly brought the photos to life. Seeing her confidence grow with each click of the camera was one of the day's many highlights.
Bringing it all in
As the sun began to set, we wrapped up the session with some stunning shots of Mia bathed in the golden light. As I looked through the lens, I couldn't help but feel a sense of admiration for the incredible young woman in front of me. I saw the culmination of years of growth, experiences, and familial love in her. And as I captured these final moments, I knew we had created something extraordinary - a collection of images that Mia and her family would treasure forever.
It's a wrap
My senior photo session with Mia was more than just a photoshoot. It was a celebration of her journey, her achievements, and the strong family bonds that have supported her along the way. At Kelly Tareski Photography, we believe in creating more than just beautiful photos; we aim to tell stories, evoke emotions, and create lasting memories. Our session with Mia was a testament to this belief, and I feel incredibly fortunate to have been part of her senior year journey.